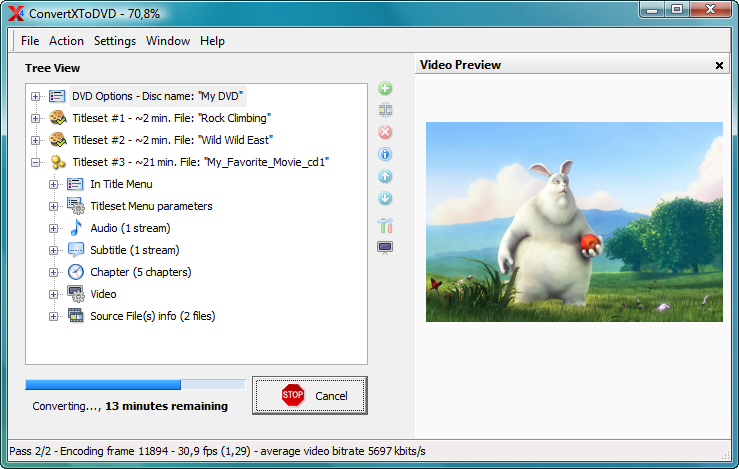 En unos clicks, el programa convierte y graba todos tipos de archivos video o contenido multimedia a DVD. El programa trabaja indistintamente formatos de video NTSC y PAL y permite crear capitulos automaticamente o manualmente, crear menus personalizados, inserar subtitulos, etc.
Propiedades
Formatos de Video Soportados: DivX, Xvid, MPEG4, MOV, AVI, WMV, WMV HD, DV, MKV, MTS, OGM y mas...
Fuentes Soportadas: Archivos procedentes de videocamaras digitales, TV/Sat, tarjetas capturadoras
Puede utilizar hasta 4 horas de material audiovisual procedente de diferentes fuentes
Formatos de Audio Soportados: AC3, DTS, PCM, OGG, MP3, WMA y mas...
Admite archivos de subtitulos (.SRT .SUB/IDX .SSA) permitiendo seleccionar fuente y color, ademas soportando tags (italic, bold)
Seleccion de Formato de Video: NTSC, PAL, o automatico y PULL-DOWN
Formato de Salida: Widescreen, Fullscreen, o automatico
Crea capitulos automaticamente o creelos a su gusto, con vista previa
Modo de previsualizacion rapida para verificar que se a cargado correctamente el video
Guarde la estructura en el disco duro o grabelo a un soporte DVD grabable
Integra un fiable motor de grabacion (soportando todos los formatos de DVD)
Codificador rapido y de calidad (normalmente tarda menos de 1 hora en convertir una pelicula)
POsibilidad de juntar varios archivos entre ellos
Control de la velocidad y calidad de la conversion con el "Evaluador de conversion"
Soporte de los multiprocesores (dual/quad core)
Creacion de menus avanzados: posibilidad de añadir video y audio a los menus, varios fondos disponibles, creacion de sub-menus para los capitulos, los subtitulos, etc
Interface configurable (temas, ventanas plegables)
Soporte multilingual (idiomas disponibles...)
Compatible con las ediciones 32 y 64 bits de Windows XP/ Vista/ 7
Changes in ConvertXtoDVD 4.1.1.334 :
regression fixes from version 4.1.0.333
- 0003163: [Feature Request] link to BatchXtoDVD from File menu (wesson) - resolved.
- 0003771: [Bug] Template Selector in the main window displays all black, cannot preview templates ! (wesson) - resolved.